Please tell me you sang the title of the post to
this tune
. Because that is what I thought of when I wrote it. I was sitting on the couch one night and all of the sudden this title just came to me - and I thought I was pretty clever.
Well enough about my incredible wit... and on to the point of this post. We've had an unusually warm winter in Utah with hardly any snow. But a couple of Saturdays ago we got hit with a doozy. By 2 in the afternoon we had a good foot of snow on the ground. Which isn't really that much in Utah standards, but it was more than we've had all winter.
When Erik got home from work he headed out to shovel the driveway. Seeing as I've never actually lived in a house in Utah before, I knew I had to get in on the shoveling action - but not without snapping some pictures first.


I'm pretty sure all the Nystul men thought I was crazy taking pictures of them doing something that they've done a million times. But I just couldn't resist documenting my first time helping out!
And I also couldn't resist making my first GIF!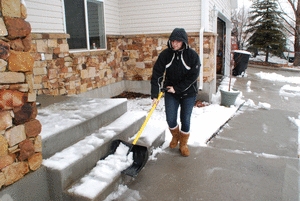 I have to say though, despite my initial enthusiasm, I got tired of shoveling pretty quick. I told Erik we need to move to California ASAP. Or maybe I'll just leave the shoveling to my hubby.