My sweet grandpa, who I always referred to as "Gramps," passed away a year ago tomorrow. However, last year Memorial Day fell on May 28th, and since Gramps was a WWII veteran, I think I'll always remember this particular anniversary on Memorial Day.
I'll never forget this day last year. Erik was working so I decided to hit up all the great sales at the mall. As I was getting ready to go I got a call from my mom. I let it go to voicemail, thinking I would just call her in the car on my way down to Provo. After listening to a frantic voicemail telling me that something was wrong, I called my mom back. She told me that Gramps had a heart attack that morning and that the paramedics were unable to revive him. I just started to sob (and I'm holding back tears as I type this even a year later). He'd had some heart problems in the past but was generally healthy. He still played golf, rode his bike, volunteered frequently at a local thrift store, and was very involved in his church congregation. His death was just so unexpected.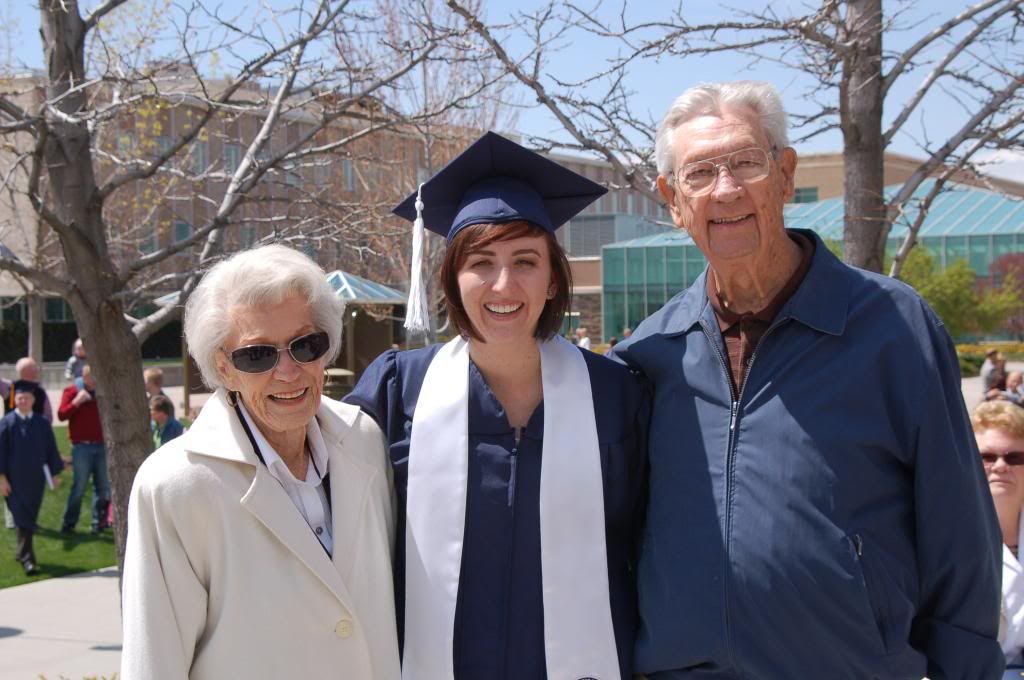 After crying on the phone with my mom for a few minutes I hung up and immediately knelt down next to my bed and said a prayer. I always thought I had a strong testimony of the Plan of Salvation and life after death, but that testimony had never really been tested. Gramps was the first person I was close to, that had passed away. I prayed for comfort and to know that I would see Gramps again someday. I immediately felt this warmth come over me, assuring me that death was not the end and that Gramps was in a better place.
Despite that reassurance, I was still pretty choked up. I knew I would see him again but it was going to be a very long time before that happened. I just missed him so much already. I called my sweet Ganny and cried with her. Gramps was her everything and she already felt so lonely.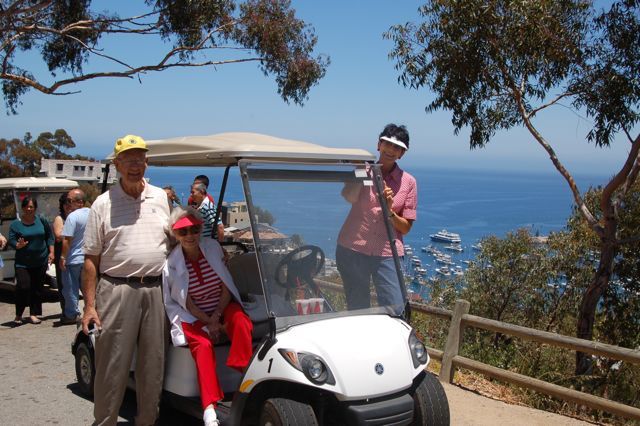 Gramps wanted to be cremated so Ganny decided to wait to have his memorial service until July when most of the family could attend.
The service was so wonderful. It was nice to be around family and to reminisce about our favorite memories of Gramps. He really was the most wonderful man you could ever know.
He was a master fisherman, and I'll never forget the joy of fishing with him when I was a little kid. I remember not even being able to sleep the night before one of our fishing trips at a local park. I will also never forget all of his great stories and his seemingly endless wealth of knowledge. Besides my dad, Gramps is probably the smartest man I've ever known. And he had been just about everywhere. Anytime someone brought up a town or tourist destination in a conversation, you could bet Gramps had been there and could tell you all about it.


Gramps was actually not my biological grandpa. My mom's parents got divorced when she was in her 20's. Her mom married Gramps just a few years later. Her dad passed away when I was just a toddler and my dad's dad died before I was even born. So Gramps was the only grandpa I ever really knew and he never treated me any differently than one of his biological grandkids. He and Ganny spent holidays with us as often as they could and frequently joined us for summer vacations. He was just a constant in my life and I miss him so much.
I surprised myself by bawling through his whole memorial service. I don't even think I was sad necessarily, just missing him and still a little shocked that he wasn't with us anymore.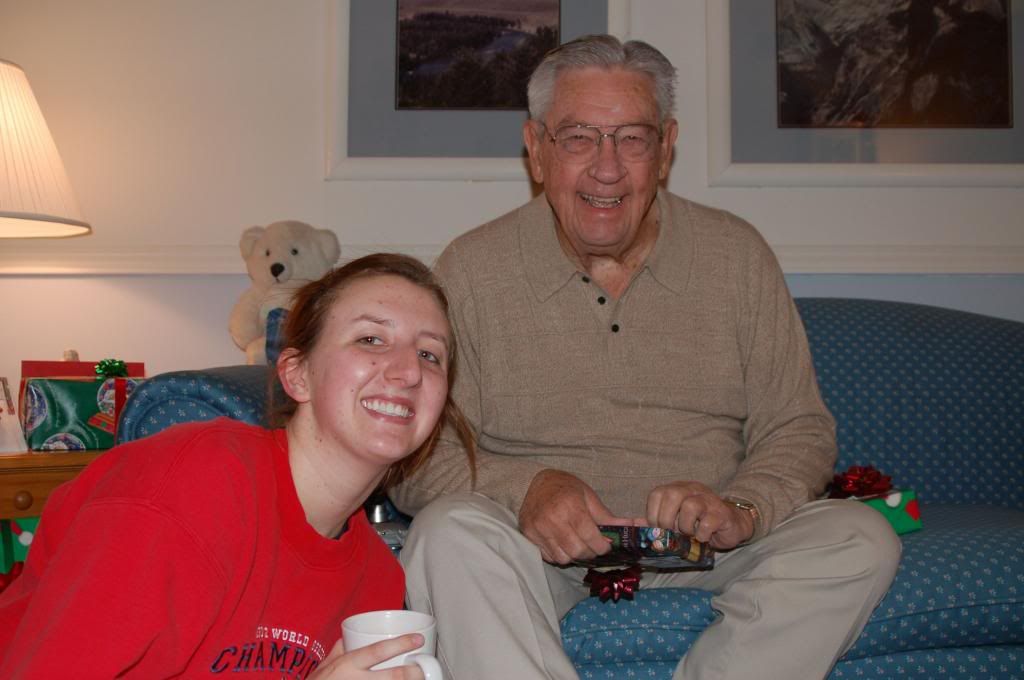 It breaks my heart that my own kids won't get to know him (at least in this life), but I know he'll always be watching over us. I hope that I'll always remember his example. He was an extremely dedicated Lutheran and probably the most Christian man I've ever seen. He was kind and loving to everyone he met and the best way I can think of to remember him is to live the way he did.
That kind of concludes my own thoughts, but my mom wrote a biography of Gramps for the memorial service program and I wanted to include it in this post:
Harold William Schlobohm
4/24/1923-5/28/2012
On Memorial Day morning, May 28, Hal suffered a sudden heart attack at his home in Sun City Grand, Surprise, Arizona, and subsequently died at Del Webb Hospital in neighboring Sun City West. His wife, Virgina, was by his side. He was 89-years-old and had lived an exemplary life of Christian service, compassion and love for his family and fellowmen. A life-long Lutheran and charter member of Spirit of Grace Lutheran Church, he was a World War II veteran and a true Patriot who loved his God, his country and his family.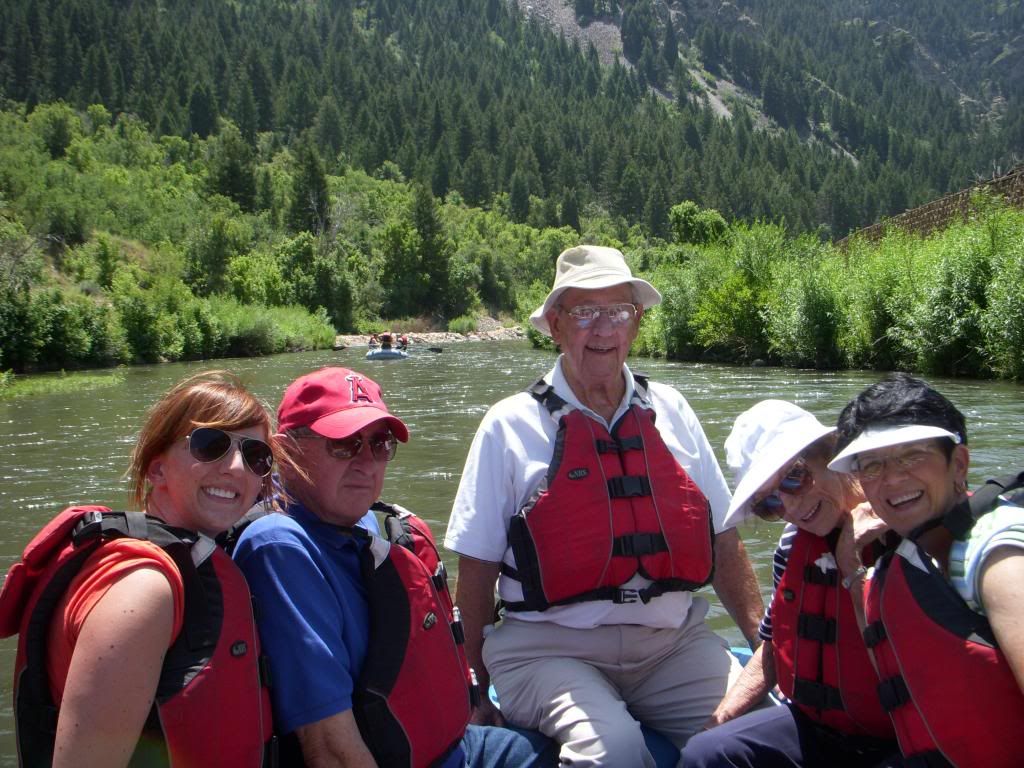 He spent many years in Alton, Illinois, raising his first family and as the Manager of the Owens Illinois Glass Mold manufacturing plant. He was very active in civic affairs having served as President of the Alton Chamber of Commerce, as a fundraiser for the United Way and the Red Cross and served on the Board of Directors of Alton Memorial Hospital. The Boys Scouts of America honored him with its highest award for volunteerism, The Silver Beaver, for his distinguished service to youth.
During the Great War, he served in the Army Air Corps as a B-17 pilot, having graduated at the top of his class. He was assigned to remain at the flight school as a flight instructor. Near the end of the war, he flew missions ferrying our aircraft back to the U.S. from England.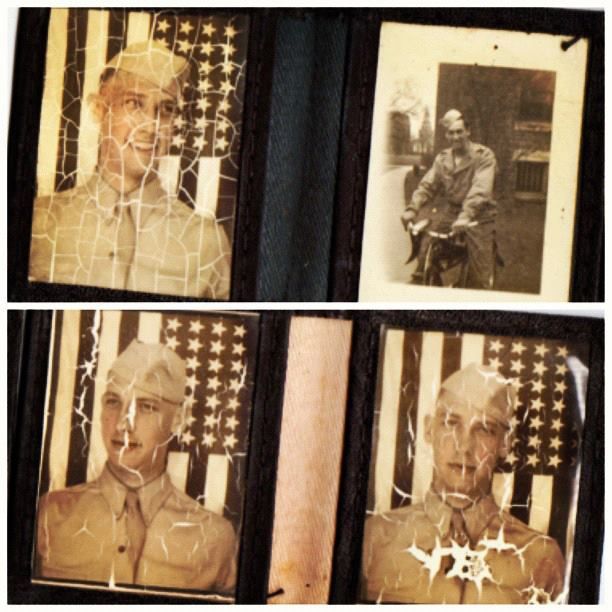 Hal was a devoted father to five surviving children by his first marriage and two surviving stepchildren from Virginia, his wife of 35 years. He is also survived by 18 grandchildren, 17 great grandchildren, a sister, a brother, and a sister-in-law. He and Virginia have resided in Sun City Grand for 14 years. He loved playing golf, traveling, and was an expert fisherman who spent hours introducing his children and grandchildren to the joys of angling. He was Surprise library's best customer and read hundreds of books of ever genre - fiction and non-fiction. He was an accomplished woodworker and made many beautiful pieces of furniture for their homes with his antique tools.