Well hello blogland! It's been a while...
...as in almost a year since I last posted. But I've resolved to start posting again! If I had a nickel for every time I've said that on this blog I'd be a rich woman.
So here it goes, a little (or really long) update on the last (almost) year of our lives.

May

We became a family of three when we added our first four-legged child - the world's cutest boxer named Milo.


We're completely obsessed with him to say the least. You'll be seeing a lot of him around here.
June
We were able to attend my niece Emily's wedding. Her sealing was beautiful and it was a wonderful day spent with family.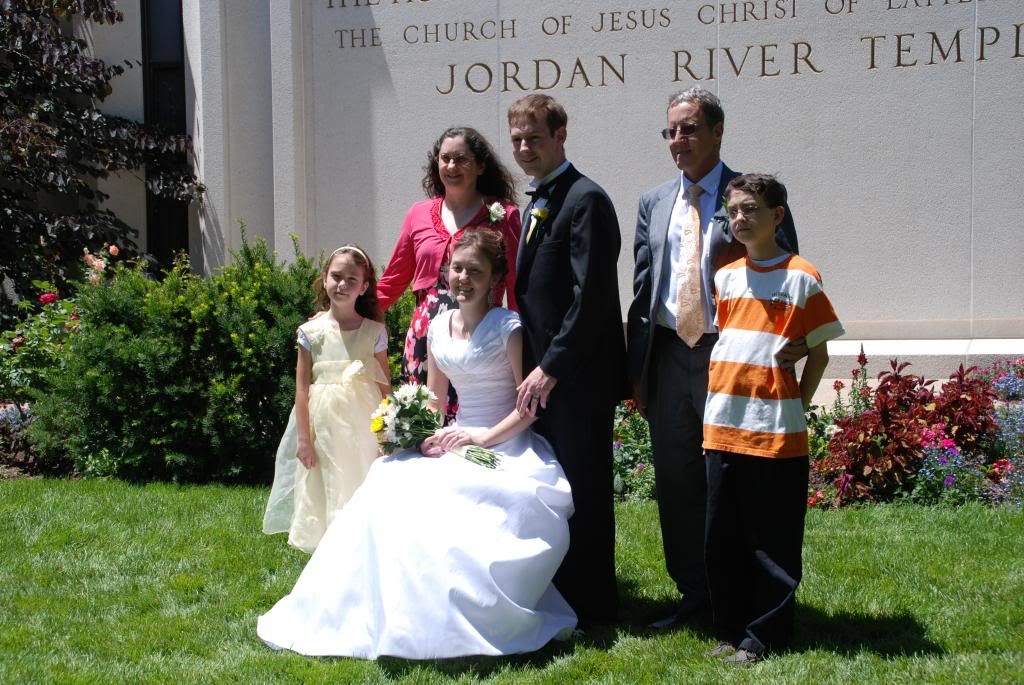 The only thing that put a bit of a damper on the day was that Emily hurt her back a few days before the wedding and was stuck in a wheelchair most of the day. But she was quite the trooper and and still looked gorgeous and happy the whole time.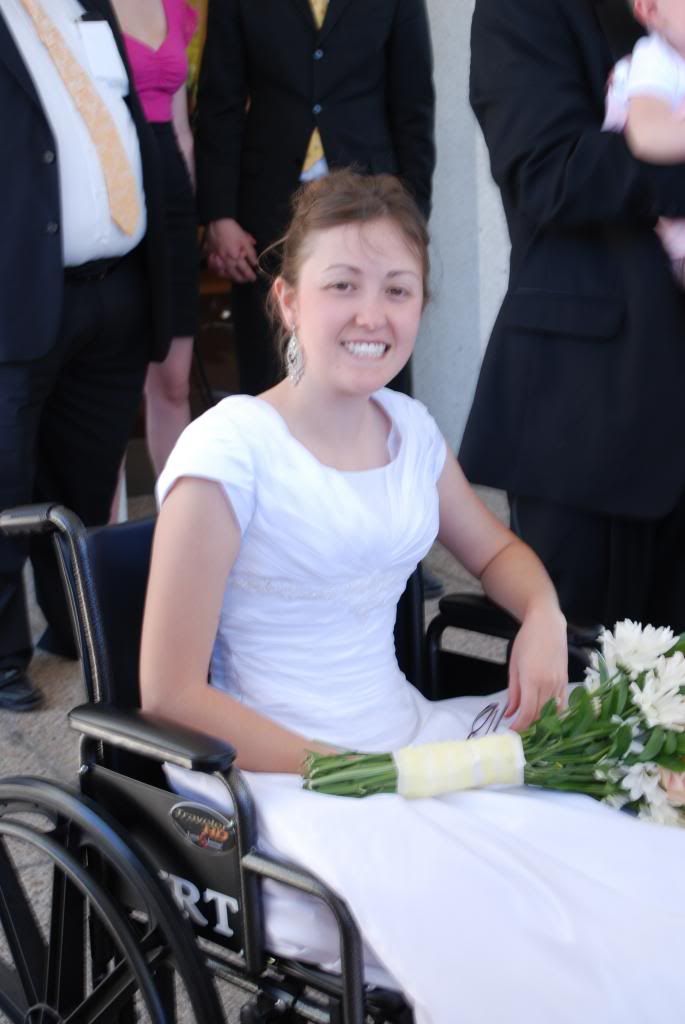 July
My sweet grandpa passed away on Memorial Day. In July we went to Arizona for his memorial service and were able to reminisce about his amazing life. I'm planning to do a whole post about my grandpa so for now I'll just leave you with this picture...
...which probably seems totally random. But this is one of the ways I remember my Gramps the most. Standing in my parents' kitchen in this blue robe (that I don't remember him ever not having) making coffee for himself and my Ganny and smiling from ear to ear.
---------------------------------------------------
Also in July, I started a new job! I was presented with an amazing opportunity to quit my 9-5 office job and go to work for my MIL, Jill and her business partner (and nephew) Scott. Jill's blog (onegoodthingbyjillee.com) has completely taken off and is now a little company with multiple employees. I'm the executive assistant so I basically keep everyone organized and on track and answer lots and lots of reader questions. I love what I'm doing and I get to work with some amazingly talented people. And I mean, what's not to love about a job you can do from your couch in your pajamas?
August
We went on lots of family walks...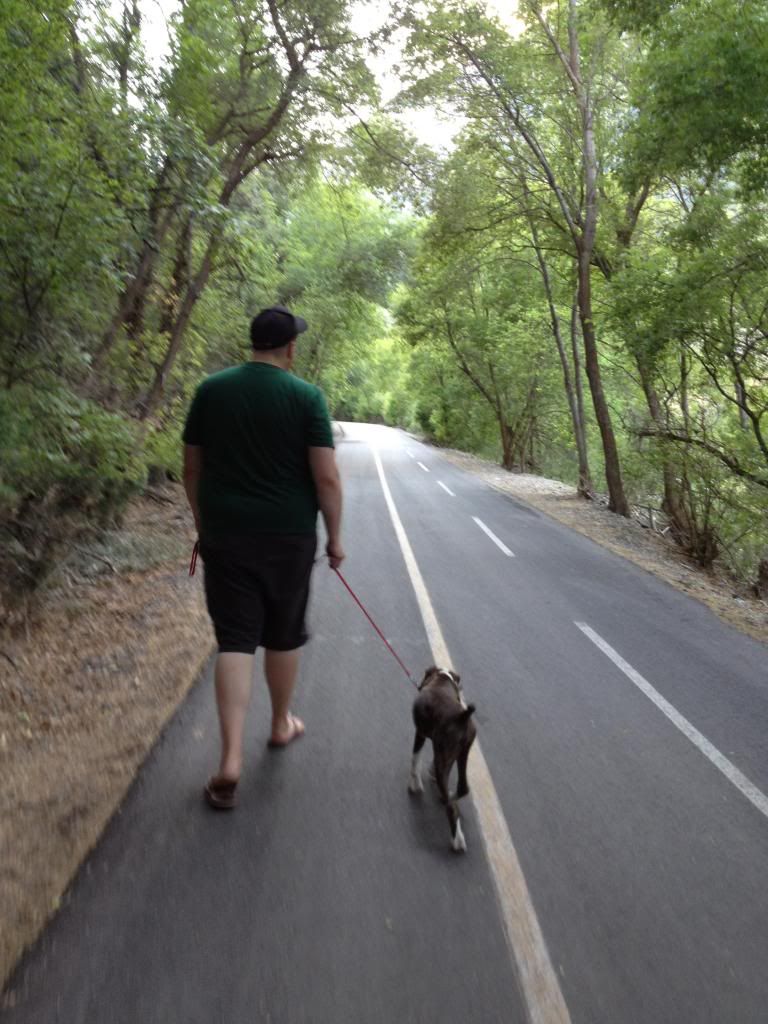 Went to a Real Salt Lake game...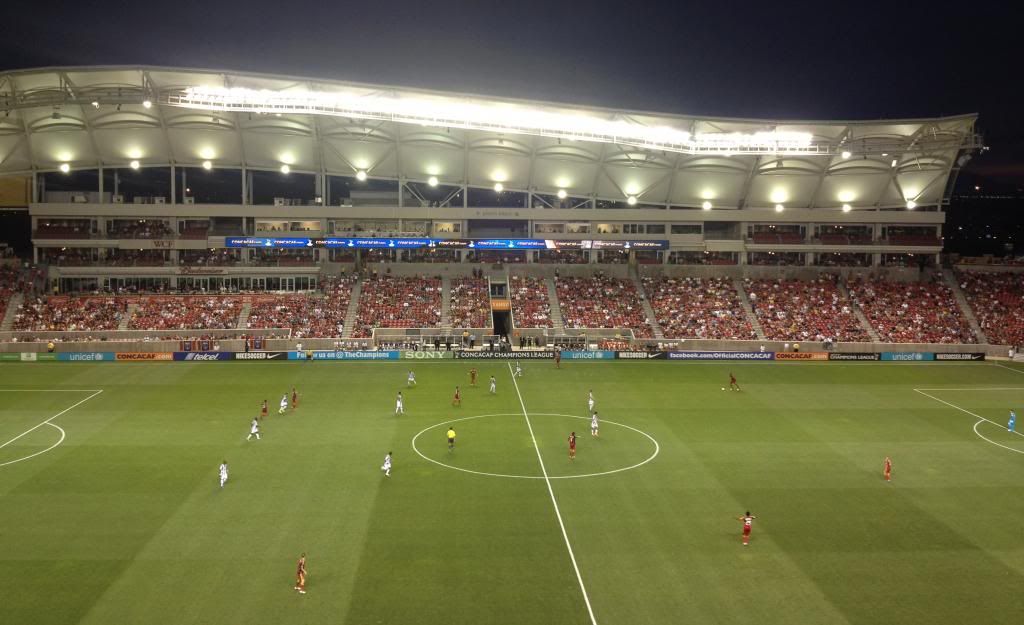 Saw Seven Brides for Seven Brothers at Sundance...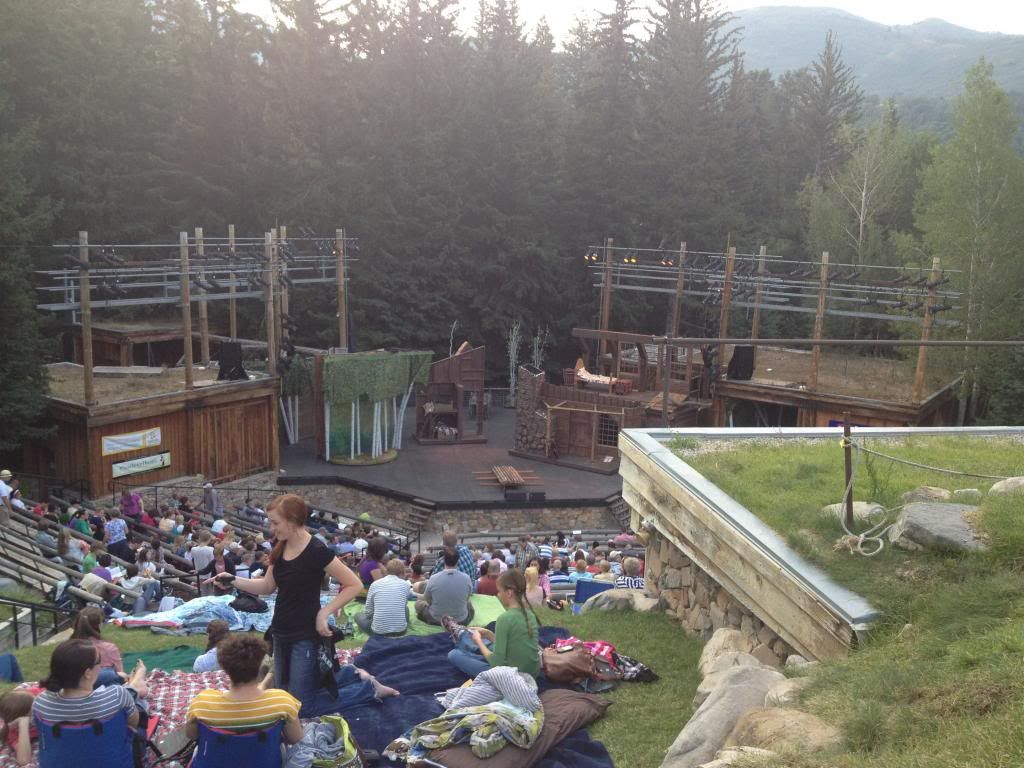 And attended the wedding of this gorgeous couple...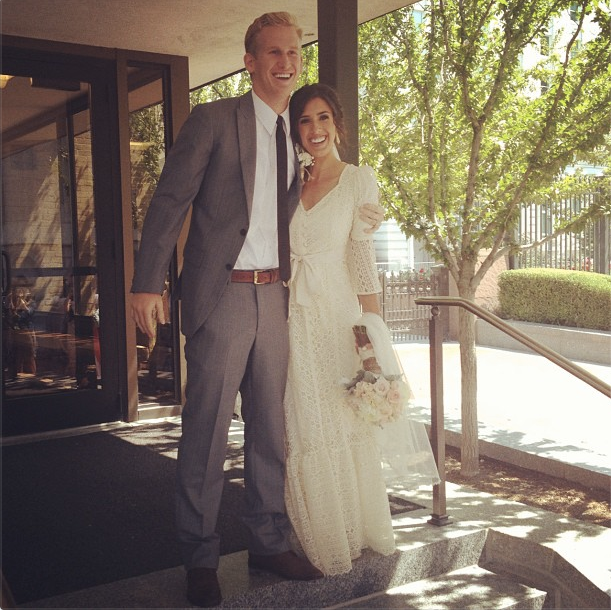 Erik's cousin, Steve and his darling bride, Sariah.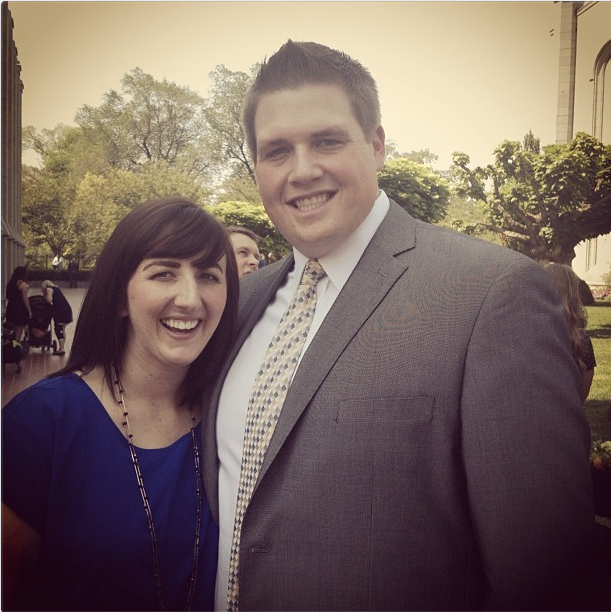 September
I dragged Erik to the Utah State Fair.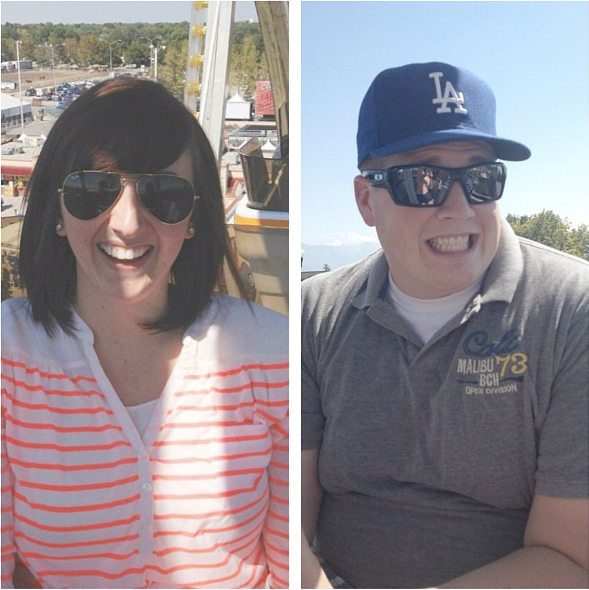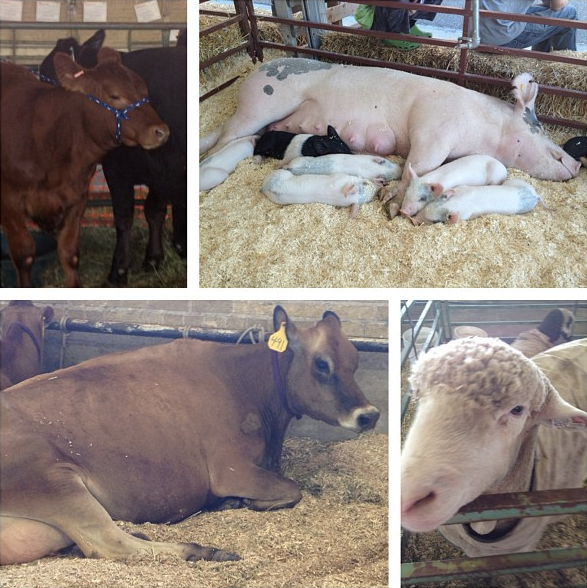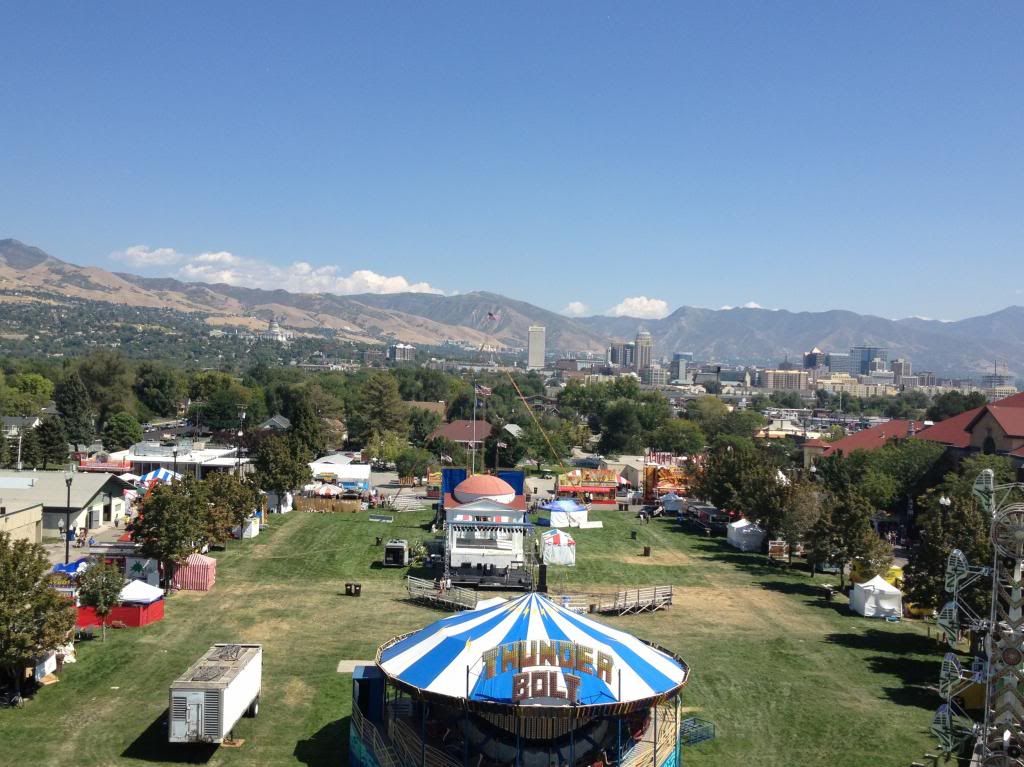 Fairs aren't really his thing, but I think we still had a good time : )
October
We celebrated our first wedding anniversary with a little staycation in SLC. It was such a fun weekend. We stayed in this gorgeous hotel called The Monaco. It's in this historic building and our room was fantastic.
We went to the Salt Lake Temple, The Leonardo museum, shopped till we dropped at City Creek, saw a movie, and generally just enjoyed a weekend together without any interruptions. It was nothing fancy but it my opinion it was the perfect way to celebrate our first year together.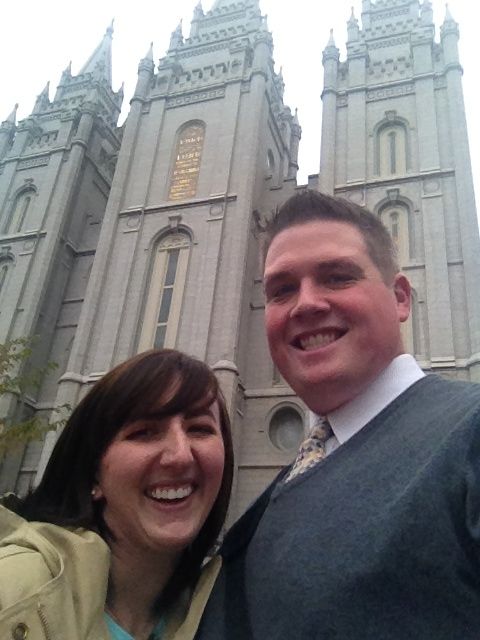 Here we are being totally silly at The Leonardo: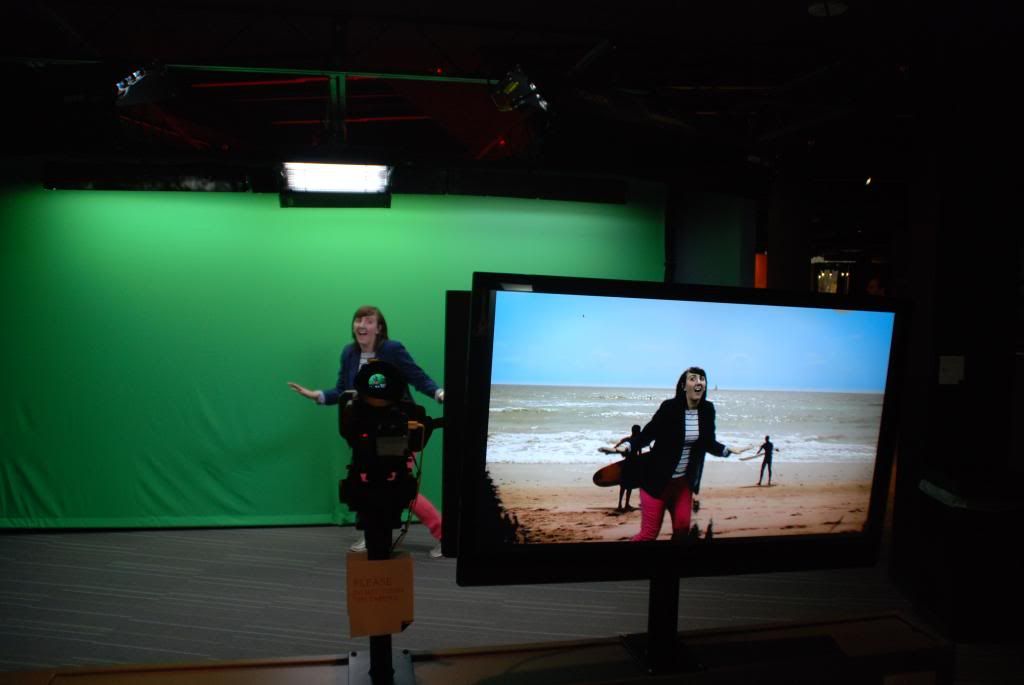 We rounded out October with a Halloween party at the Self's house.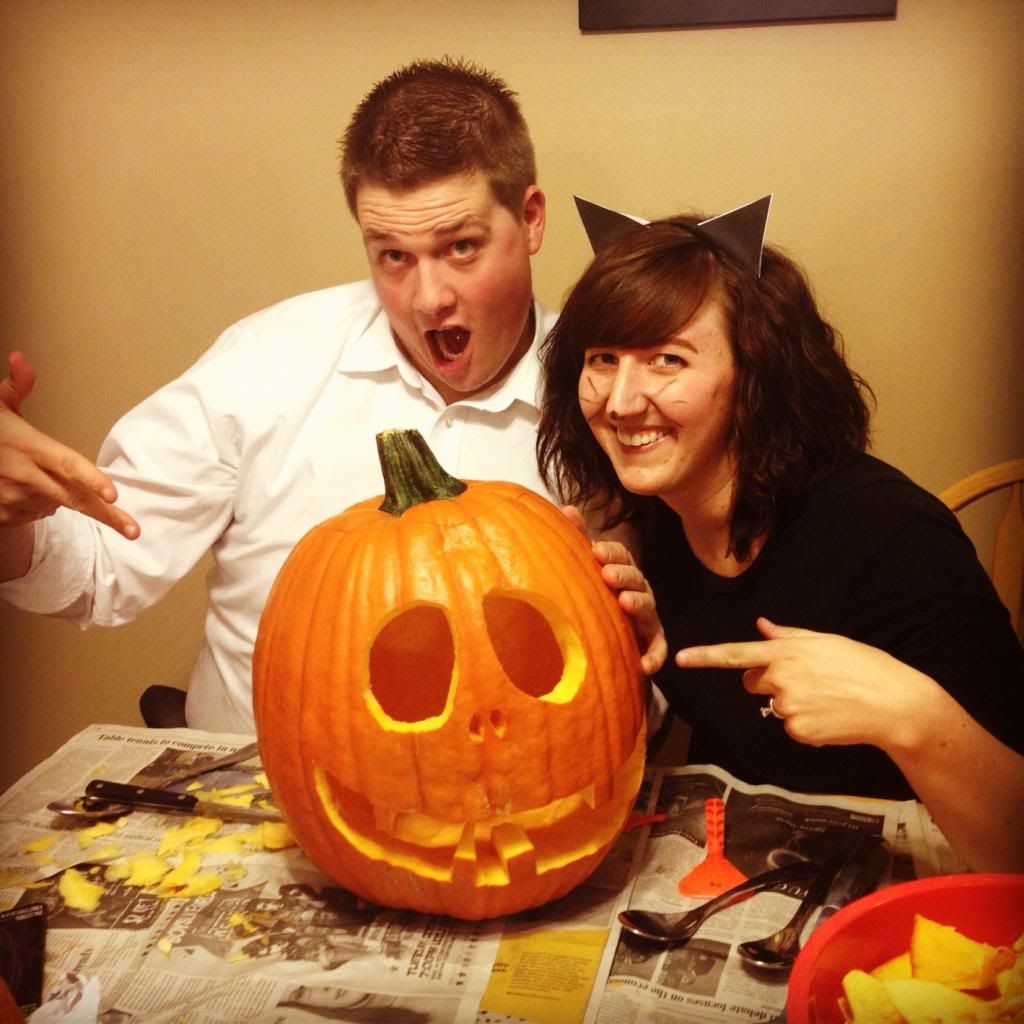 Erik and I went as a Halloween version of Jim and Pam from The Office...super original.
November
We celebrated my 26th birthday with a delicious dinner at Magelby's.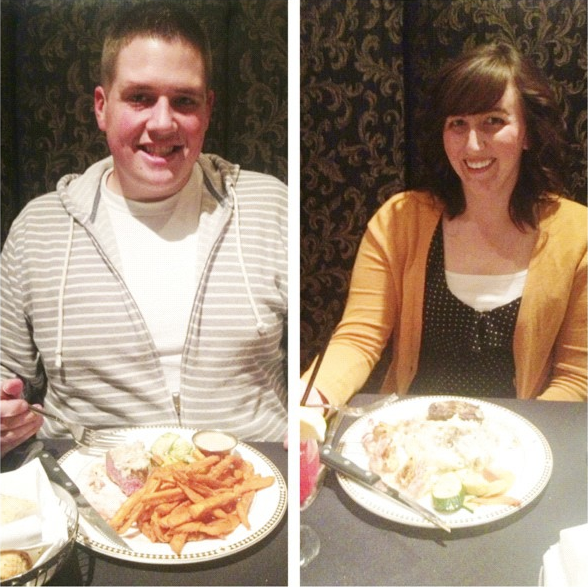 And then my amazing friends Kaitlin, Skylar, Brillante, and Darin completely surprised me with a party when Erik and I got home. They also set up a Skype session with Anne, Michael, Molly, and Andrew - who all live out of state now. It was such a fun night but we somehow didn't get a single good picture of the whole party : (
I took a one day trip to CA and then drove back to Utah with my mom in our new (to us) car. My parents got a new car and, being the amazing people they are, gifted us their old car. We are now the proud owners of a Honda CR-V complete with 4-wheel drive - and we feel a lot safer driving in the Utah snow.
When I went home I brought back our wedding cake topper so we were finally able to eat our year old cake
December
We made sure to get ourselves into the Christmas spirit by attending Christmas Around the World at BYU, The Mormon Tabernacle Choir Christmas Concert, and the Timpanogas Symphony Orchestra Christmas Concert (one of my best friends, Kaitlin Rackham, happens to sit first chair in the violin section).
We rang in the New Year back in Utah with our best friends. I had another picture fail and didn't snap a single shot of the entire night. But luckily Brillante documented the evening on her
blog
.
If you made it to the end of this post I congratulate you :) Now you're all caught up on the last 8 months of our lives.