Look at me getting all ambitious and posting twice in one day!!
I'm really just avoiding doing homework...
So as most of you know I've been called to serve a mission for the Church of Jesus Christ of Latter-day Saints in the South Carolina, Columbia Mission. I am soooo excited!! I go into the MTC on January 14th and I can't wait!
I'll admit when I first read my call I was a little disappointed. I was really stuck on wanting to go to Europe, specifically London. I told myself I would be happy where ever I was called (as long as it wasn't Provo) but there was still that initial disappointment when I didn't get called where I wanted to go. But the Lord calls you where you NEED to go not necessarily where you WANT to go. I just needed to remind myself of that. And here is the really cool thing -- my mission president was the bishop of my ward when I was born! How crazy is that! And my Mom told me that I have a whole bunch of ancestors from her side of the family that were from South Carolina and she still has non-member family living there! Soooo cool!
Regardless to say, I'm totally stoked about serving the people of South Carolina. The day after I got my call I started Googleing info about South Carolina and I found out all kinds of cool facts. I would now like to share a few of my favorites with you:
-South Carolina has the 24th largest population in the United States.
-One of my all-time favorite movies, The Patriot (R.I.P Heath Ledger), was filmed entirely in South Carolina!
-The average high temperature in the winter is 55 degrees and the low is around 35 degrees; in the summer highs are in the 80's and lows are in the high 60's to low 70's.
-Nowhere in the state averages more than 6 inches of snow a year! Woohoo!
-The largest city is Columbia.
-The last time South Carolina voted for a democratic president was Jimmy Carter.
-James Brown, Stephen Colbert, Andrew Jackson, Jesse Jackson, and 'Shoeless' Joe Jackson are all from South Carolina.
-The first time a British flag was taken down and replaced by an American flag was in Charleston in 1775.
-Golf was first played in the city limits of Charleston.
-South Carolina was the first state to secede from the Union on December 20, 1860. Ohhh the south...
-There is a temple in Columbia! Isn't it pretty?
And my personal favorite...
-South Carolina is freakin' gorgeous! Ok, so I know that's not exactly a fact but after looking at a tons of pictures of the state I came to that conclusion. Just check out this plantation!! Gorgeous!!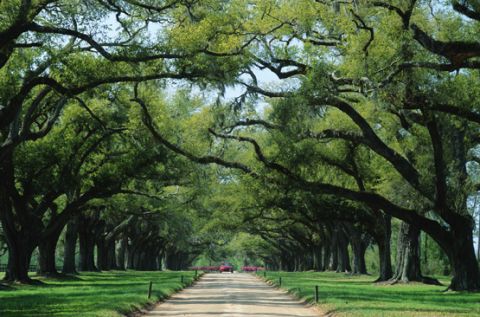 And you can check out the rockin' state song
here
.
I also happened upon the South Carolina
tourism website
and ordered myself a visitor's guide which came in the mail this past week. It came complete with a full color guide to the state with amazingly gorgeous photos and a map of South Carolina which will soon be on my wall!
And finally, just for kicks and giggles, I bring you, Miss Teen South Carolina herself, Lauren Caitlin Upton.
Mario Lopez's face is priceless! I think we should help THE Iraq and the U.S. Americans too Lauren! Ohhh I never get sick of watching that video.